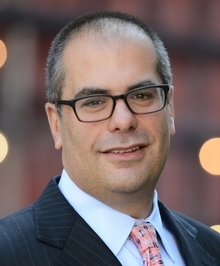 EDUCATION
Brandeis University, B.A.,
magna cum laude,
Phi Beta Kappa, 1992

Brooklyn Law School, J.D.,
cum laude, 1995
ADMISSIONS
1996, New York
CONTACT INFORMATION

V-Card
Mr. Wrubel's legal practice is devoted to handling complex family and matrimonial matters. He is accomplished in expanding the rights of LGBTQ Individuals and negotiating the amicable dissolution of marriages as well as taking these cases to trial if necessary.
In addition, he has years of experience in the New York Appellate Courts. Mr. Wrubel has dealt with a large variety of issues in family and matrimonial matters, including complex equitable distribution questions, novel support and custody issues, as well as being on the forefront in same-gender marital issues. He was lead appellate counsel in the appeal to the New York Court of Appeals that led to the twenty-five year old definition of parent being expanded to the benefit of LGBTQ parents. He has tried cases involving children travelling with serious medical problems internationally, cross-examined numerous financial experts, and handled many matters involving high net worth individuals with assets that are difficult to value and distribute. A skilled trial lawyer and appellate advocate, Mr. Wrubel was involved in the trial and appeal of the seminal case in New York dealing with the validity of foreign pre-nuptial agreements. He has litigated, written and lectured extensively on same gender marriage and divorce, civil unions, domestic partnerships and their tax consequences. Mr. Wrubel is an adjunct professor at the Benjamin Cardozo School of Law.
IN THE NEWS
In a landmark case involving an unintended surrogacy, Mr. Wrubel was successful in providing the legal basis for the genetic parents to be declared the legal parents of children carried and born of another couple.
SYNOPSIS & MEDIA COVERAGE
AFFILIATIONS
Board Member of the New York Chapter of the Association For Family and Conciliation Courts, AFCC (2018 - 2020)
Fellow, International Academy of Matrimonial Lawyers (2013 - Present)
Fellow, American Academy of Matrimonial Lawyers ("AAML") (2005 – Present)
Member, LGBT/Alternative Family Committee, AAML (2013 – 2018)
Member, Board of Managers, NY Chapter, AAML (2012 – Present)
Member, Committee for the Future, NY Chapter, AAML (2007 – 2020)
Member, Amicus Committee, NY Chapter, AAML (2007 – 2020)
Member, Executive Committee of the Family Law Section of the New York State Bar Association (2011 – Present)
Co-Chair, NYSBA-FLS Marriage Equality Committee (2011 – Present)
Chair, NYSBA Committee on LGBT People and the Law (2015 -2018)
Adjunct Professor, Benjamin N. Cardozo School of Law, Yeshiva University (2015)
Listed in The Best Lawyers in America (2010 – Present)
Matrimonial Law Committee, Association of the Bar of the City of New York (2012 – 2014; 2000 - 2002)
Lesbian, Gay Bisexual & Transgender Committee, Association of the Bar of the City of New York (2002 – 2006)
PRIOR AFFILIATIONS
McLaughlin & Stern, LLP, Partner
Dobrish Zeif Gross & Wrubel, LLP, Partner
PRESENTATIONS
The Tiers (Tears) of Parentage: All Parents are Not Equal in the Eyes of the Law, New York State Bar Association, Family Law Section Annual Meeting, January 28, 2021

"Diversity in Parental Relationships and Its Impact on Family Law: The Changing Legal Landscape of Custody and Parenting Rights", New York State Bar Association Bridging the Gap CLE Program, March 8, 2019

**ART**Whose Child Am I? The Fertilization of ART and Marital Presumptions, American Bar Association, Family Law Section, Continuing Legal Education Series, October 5, 2018
Tripping Down the Rabbit Hole: The Brook S. B. Aftermath, The Women's Bar Association of the State of New York, Convention 2018, Continuing Legal Education Series, June, 2, 2018
Finding Fairness: Short Term Marriages and Long Term Relationships Post Obergefell—the "tacking" issue explored, ABA Section of Family Law, May 2017, Speaker
The Art of the Lie: Deception in the Matrimonial Action, New York Chapter of American Academy of Matrimonial Lawyers, May 2017, Co-Chair
International Prenuptial Agreements, International Academy of Family Lawyers, April 2017, Lecturer
Are You My Parent? Who is in My family? De facto Parentage, the Marital Presumption and the Child Parent Security Act: Recent Updates in the Law and how it will Impact the Evolving Family Model, Brooklyn Bar Association, March 2017, Lecturer
25 Years After "Alison D.": Exploring Issues Facing Same-Sex Couples Post 2011 Marriage Equality Act, New York Sate Bar Association Webinar, January 2017, Lecturer
Beyond Brooke B: Litigating Same Sex Parenting Cases in the New Legal Landscape, New York Women's Bar Association, December 2016, Lecturer
Will the "Real" Parent Please Stand Up? New York Chapter of Association of Family and Conciliation Courts, June 2016, Speaker
Same Sex Marriage and Custodial/Access Rights of Same Sex Parents, New York State Judicial Institute 2016 Matrimonial Seminar
Representing LGBT Clients After Obergefell: Marriage and Same-Sex Parenting, New York State bar Association, Committee on LGBT Persons and the Law, September 2015, Program Chair and Lecturer
What's Missing from Forensic Custody Reports Today … Fodder for your Cross-Examination; Factual Changes Between Trial and Appeal – the Bermuda Triangle of Custody Litigation; Secondary Stock Markets are the New Primary Issue. AAML NY Chap., March 2015 Program Chair
Expert Witness Skills Workshop, American Institute of Certified Public Accountants, September 2014
Marriage Equality The 2nd Anniversary Updates on Case Law & Development, Association of the Bar of the City of New York, June 2013
Does recognition of Divorce Decrees from Islamic Nations Violate our Doctrine of Separation Between Church and State?; and Quick, Print out her Facebook Page before she Changes it! That's not what his original e-mail said to me! I want Google to turn over his entire mailbox. AAML-NY Chap., June 2013, Program Chair
If and When our Marriages End: Same-Sex Divorce Issues for the LGBT Community, LeGAL – LGBT Bar Association of Greater New York, April 2013, Program Chair
Domestic Violence . . . What is it and What Role Does it Play in a Custody Proceeding; and Are Business Appraisals on their way out? If so, What's Next?, AAML-NY Chap., March 2012, Program Chair
A Tale of Two Families – A Heterosexual Family and a Same Gender Family: The interplay between DOMA and the Marriage Equality Act, New York State Bar Association Family Law Section January 2012, Program Co-Chair
The Tax implications of DOMA on distributive awards, property transfers between spouses and spousal and child support. Consideration and residency issues in pre-nuptial agreements and settlement agreements between same gender couples. New York State Bar Association Family Law Section, January 2012
Advising Lesbian, Gay, Bisexual & Transgender (LGBT) Clients on How to Protect Their Families and Relationships, Association of the Bar of the City of New York, March 2005, Lecturer


RECOGNITION
Nominated Attorney of the Year by the New York Law Journal - 2017
Listed in The Best Lawyers in America (2010 – Present)
AV Preeminent Rating from Martindale.com (2015-Present)
Super Lawyers New York Metro (2008 – 2023)